Top 5 AR-15 Accessories to Make your AR 'Fun to Shoot'
Customizing or upgrading a few parts is something we all have done or plan to do with our AR 15. The thrill begins when you upgrade it with some exclusive accessories that make it super fun and exciting to shoot. But, the vast aftermarket for AR parts and accessories leaves us a little overwhelmed with the right choices for the upgrade. This blog is a drive-through to the top 5 exclusive and quirky accessories that will help you take your gun to the next level or make it thrilling and exciting to shoot on the range.
67 mm AR15 Utility (Can) Launcher.
The 67 mm Utility Launcher is one of the most in-demand and fastest-selling accessories to get thrilling adventure on the range with your AR 15. Just use your AR 15 lower receiver with the Bolt Carrier Group (BCG), and the charging handle and your can launcher is ready to use. Besides the AR 15, it also works with the M16 lower receiver.
This can cannon will help you shoot soda cans, beer cans, wine cans, tennis balls, paint cans, or anything that snugly fits inside it. It launches cans at a distance of 105 yards using the mil-spec M200 5.56 blanks. It is a BATFE-approved accessory and is not considered a firearm, meaning you can buy and use this soda can launcher without any paperwork. At $249, it stands as a fairly priced accessory with the amount of fun it brings along. On top of it, you can get one free on the 4+1 buddy offer from F5 MFG.
The 37 mm Utility launcher adaptor is a great accessory to launch golf balls, drone nets, smoke canisters, and everything that fits inside its 37 mm tube. It easily and quickly threads inside the soda cannon from F5 MFG to launch anything under 37 mm diameter. The utility launcher adaptor is another thrilling accessory for the AR-15 that raises the adrenaline rush on the range. The AR 15 cannon and golf ball attachment can be bought separately or together as a complete kit. Although the utility launcher and the adapter are highly accurate, you can also go for the can launcher sight and vertical foregrip to complete your collection and have fun on the range.
The vertical foregrip gives a gun more stability and accuracy. But, as per the ATF, you cannot use a vertical foregrip on the AR-15 pistol, but you can legally mount it on the AR-15 rifle with a barrel more than 16 inches. This vertical foregrip comes with ergonomic grooves for a comfortable grip. It mounts on any rifle with a picatinny-style rail system. It allows the ambidextrous use of the pressure pad insert and also comes with a battery storage compartment. Overall, this vertical grip is a win-win accessory for a mere price of $15.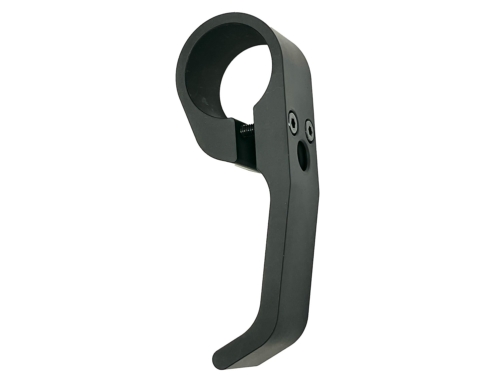 The stabilizing brace helps to stabilize the gun for controlled and accurate shooting. The 'Havoc' stabilizing brace is a super lightweight yet extremely rigid pistol brace that fits any AR pistol buffer tube mount to help you shoot with better accuracy. It is compatible with F5 MFG's modular brace system (MBS). It has a clean and ergonomic design, and with just $79 on the price tag, this super comfortable pistol brace is a fair option to go with.
This tactical bungee sling allows you to carry your gun conveniently while also helping you to reduce snap and recoil when shooting. The one-point hook makes for a quick fix and detach. Quality nylon material and 64" adjustable length make this bungee sling super comfortable and highly reliable. It is priced at $39.
Wrapping Up
These are just the top 5 cool accessories that would turn your AR15 into a fun and thrill machine. But the aftermarket offers a wide range of other accessories to upgrade your gun with some more cool features. And, what's an AR without any upgrades? We get you, fellow AR lovers!